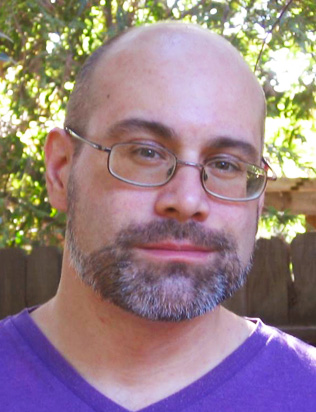 I'm an author and illustrator who lives in Davis California with my wife Regina, my best friend and favorite person in the world.

After graduating from San Jose State University with a degree in illustration, I taught English as a second language in Cuernavaca Mexico, returned to the states and worked a series of temporary office jobs, wrote and drew for small press comics and zines, worked at a commercial printers, and did occasional freelance illustration gigs for The Sacramento News and Review and L.A. Weekly, among other less distinguished publications.

In 2013, Through a successful Kickstarter campaign, I was able to fund the publication of my first picture book, (Mostly) Wordless. My first conventionally published book, Red, came out in 2018 from Cameron + Company. My next book, Gold, will be released by Cameron + Company in 2020. I've also written and illustrated stories for SpongeBob Comics and Cricket Magazine.

More recently I've enjoyed teaching art classes for children at Davis Arts Center. I also taught an online course on crowdfunding for adults at The Children's Book Academy.

I am pleased to be represented as an author/illustrator by the greatest agent in the world, Abigail Samoun, at Red Fox Literary. For book and book related projects contact Abigail Samoun at abigail@redfoxliterary.com. For editorial and other projects contact me directly at jed@jedalexander.com.

Because of the demands of my commercial work and personal projects, I am not available to illustrate self-published or print-on-demand books. If you're interested in becoming a children's author and have not been traditionally published, I highly recommend you join The Society for Children's Book Writers and Illustrators. The SCBWI is where I got started in the field, and I continue to be a member.