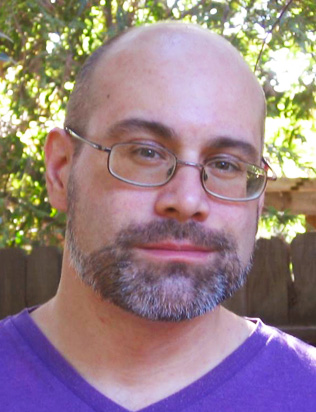 I'm an author and illustrator who lives in Davis California with my wife Regina, my best friend and favorite person in the world.

In 2013, through a successful Kickstarter campaign, I was able to fund the publication of my first picture book, (Mostly) Wordless.

Red, also wordless, came out to critical acclaim in 2018 from Cameron + Company. My follow up book, Gold, was published by Creston Books in 2022 and was also well-received. Images form Gold were official jury selections for The Society of Illustrators and Communication Arts annuals. The third book in the series, Olive, was released by Creston in the fall of 2023.
My clients have included SpongeBob Comics, Cricket Magazine, and The Children's Book Council.

I've enjoyed teaching art classes for children at The Pence Gallery and Davis Arts Center and have taught an online course on crowdfunding for adults at The Children's Book Academy.

I am pleased to be represented as an author/illustrator by the greatest agent in the world, Abigail Samoun, at Red Fox Literary. For book and book related projects contact Abigail Samoun at abigail@redfoxliterary.com. For editorial and other projects contact me directly at jedstuff@gmail.com.

Because of the demands of my commercial work and personal projects, I am not available to illustrate self-published or print-on-demand books. If you're interested in becoming a children's author and have not been traditionally published, I highly recommend you join The Society for Children's Book Writers and Illustrators. The SCBWI is where I got started in the field, and I continue to be a member.